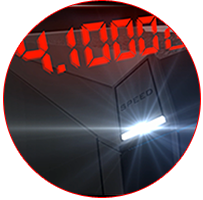 Boost Your Game
Dominate the battlefield with the ROG TYTAN G30. One-click Turbo Gear overclocking allows users to dynamically overclock the G30's Intel® Core™ i5/i7 Processor without the need to reboot. Enabling full 4-core CPU instant overclocking to reach a maximum speed of 4.1 GHz.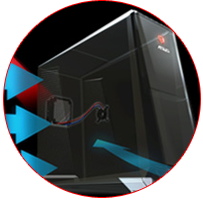 ROG Quality Infused
The intelligent chassis cooling is designed in such a way that cool air will be directed into the system from front grill and hot air will be exhausted out. The additional intricately-designed venting holes along the chassis aid in the overall cooling while the integrated liquid cooled CPU (Selected Model) offers efficient and silent heat dissipation. With its intelligent thermal design, integrated liquid cooling and hours of strict pre-testing, the ASUS ROG series is the perfect gaming desktop for gamers.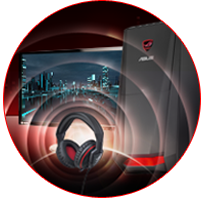 Dive into Immersion
The best gaming desktops sound uses hardware and software tuning to take audio further. More immersive and impactful sonic performance helps gunshots and explosions resonate, while even the slightest footstep becomes an auditory cue for better gaming. Enjoy optimized aural immersion with your preferred speaker or headset.
Uncompromising Gaming DNA
Turbo Gear overclocking of the liquid-cooled Intel® Core™ i7-4770K
Cool power at its finest Instant Turbo Gear overclocking of the liquid-cooled Intel® Core™ i7-4770K up to 4.1GHz is where the fun starts. Add a GeForce® GTX 7xx graphics card with NVIDIA® 3D Vision™ Surround multi-screen display, and gamers have a new ROG desktop to love. Sound is by ASUS SonicMaster audio, and the custombuilt case features aggressive cooling for utmost stability. Attractive multicolored lighting indicates overclock status, showcasing the G30's intense performance-tuning potential as assured by rigorous ROG quality-testing.
*Specifications/features shown in the video may not be the actual model available in Australia
ASUS ROG Desktops
G30
G70
CG8890
Operating System
Windows 8
Windows 8
Windows 8
Processor
Intel® Core™ i5/i7 Processor
Intel® Core™ i5/i7 Processor
Intel® Core™ i7 Extreme Processor
Graphic
NVIDIA® GeForce GTX760 3GB
NVIDIA® GeForce GTX760 3GB
NVIDIA® GeForce GTX690 4GB
Memory
16 GB Up to 32 GB
16 GB Up to 32 GB

32 GB

Storage
2TB Up to 3TB Hard Drive
128GB SSD
2TB Up to 3TB Hard Drive
128GB SSD
3TB Hard Drive
128GB SSD x2 (RAID 0)
Dimensions
216 x 481 x 544 mm (WxHxD)
330 x 574 x 600 mm (WxHxD) with Carton
300 x 530 x 630 mm (WxHxD)
776 x 482 x 673 mm (WxHxD) with Carton
300 x 530 x 630 mm (WxHxD)
776 x 482 x 673 mm (WxHxD) with Carton
Learn more about the TYTAN G30 Learn more about the G70 Learn more about the CG8890